Digital Wallets
Connect your debit or credit card to your smartphone and quickly make payments in-store or online.
Google Pay
Empower your Android device
It's easy to turn your Google device into a mobile wallet. Follow these simple steps.
Download the Google Pay app from the Google Play Store.

Sign in with your Google account.
Choose one of the available banking choices for setting up payment information. Your options include adding your Scient debit card, using carrier billing, or adding PayPal.

ADD YOUR SCIENT DEBIT CARD
Touch the floating action button.
Select "Add a debit card."
Capture a picture of your card with your phone's camera by placing your card within an onscreen frame. Make sure the numbers of your card line up with the placeholder numbers on the screen.
Confirm the card's CVC number and touch Save. You'll be asked to agree to the card issuer terms.
Google Pay will then verify the card with us. You'll need to select the option for receiving a code, such as via an email or text message.
Once verified, your card will be added to your available stack of cards within Google Pay. To make your Scient Debit Card your default payment option, tap the card and select "Set as Default Card."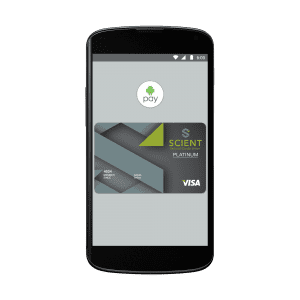 Apple Pay
Make your smartphone smarter
Apple Pay is now the easy, secure and private way to make payments.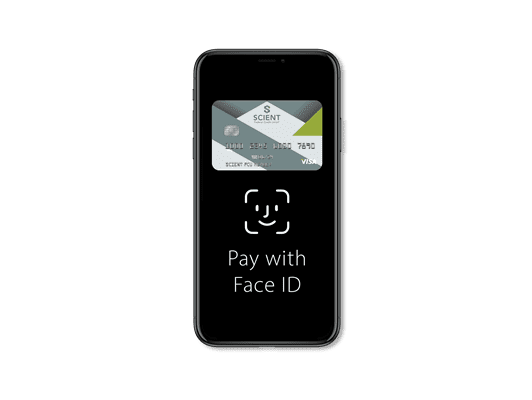 Use Apple Pay to pay in-store without swiping your cards and in-app without entering payment and contact information. A single touch of your finger using Touch ID confirms payment.
With Apple Pay, you don't have to use your actual credit and debit card numbers. When you add your card, a unique Device Account Number is assigned, encrypted and securely stored. And when you make a purchase, the Device Account Number alongside a transaction-specific dynamic security code is used to process your payment.
Your actual credit or debit card numbers are never shared by Apple with merchants or transmitted with payment. In addition, paying with Apple Pay is private - the cashier never sees your name, card numbers or security code.
Get started with Apple Pay today.
Technical requirements
You can start using Apple Pay as soon as you add a credit or debit card to Passbook. Here's what you need:
iPhone
iPhone models with Face ID
iPhone models with Touch ID, except for iPhone 5s
Identify your iPhone model to see if it supports Apple Pay
iPad
iPad Pro, iPad Air, iPad, and iPad mini models with Touch ID or Face ID
Apple Watch
Apple Watch Series 1 and 2 and later
Apple Watch (1st generation)7
For Apple Pay setup instructions, please click here.
Here's how to set up Samsung Pay and start enjoying the convenience.
From the Home Screen, touch Apps

Touch Samsung Pay

Touch ADD or, if this is the first payment card being added, touch Add a credit or debit card.
Align your card inside the frame to automatically detect the card number and expiration date.
Note: Touch Enter card manually if your device cannot detect the card information.

Enter the remaining information and touch NEXT.

If requested, enter your billing address and touch SAVE.
Review the terms and conditions, and then touch AGREE TO ALL.
If necessary, select a method to authenticate your identity using a one-time password (OTP).

Enter the OTP and touch SUBMIT.

Touch DONE to complete the process.

After your card is added to Samsung Pay, it will be verified by the payment card network (i.e., Visa, MasterCard, or American Express) and the card issuer (e.g., Bank of America, Citibank, or U.S. Bank). On average, verification will take approximately 5 to 10 minutes. During that time, you will be unable to use your card in Samsung Pay.
Note: You can continue to add cards while others are being verified.
After the card is verified, it can be used immediately to make a purchase.

Visa® Checkout
A quicker way to check out
Buying online is easier with Visa Checkout. Look for this icon

when shopping online and use Visa Checkout for a faster, more secure experience.
To use Visa Checkout, start by managing your Visa cards.
Pay with your Visa card when you see this icon where Visa is accepted.
Use Visa Checkout to skip guest checkout, bypass form fields and forget the hassle of remembering passwords.
Scient FCU is a full-service credit union with branches in Groton, New London and New Haven Connecticut.
Financial Calculators.
Save more, buy a home, pay off a loan and more with the help of our financial calculators.
Scient Blog.
Explore articles about timely topics and personal finances, from spending and saving to borrowing money.
Solutions Finder.
Get personalized product, service and resource recommendations based on your unique goals and life stage.